Volume 9
Based in coastal California, this journal is influenced by the natural beauty of the land and water, and the surrounding agricultural lands and open space. Prose, poetry, and art come from contributors near and far, young and old, across the globe. Volume 9 features an extraordinary range, from poet Forrest Gander's translation of María Baranda's "Dylan and the Whales," to artist Jon Ching with his bizarre and beautiful "Indestructible."
Never have I touched the sea or its insubstantial skin which embroiders the sacred.
– María Baranda, from "Dylan and the Whales," Translated by Forrest Gander (excerpt)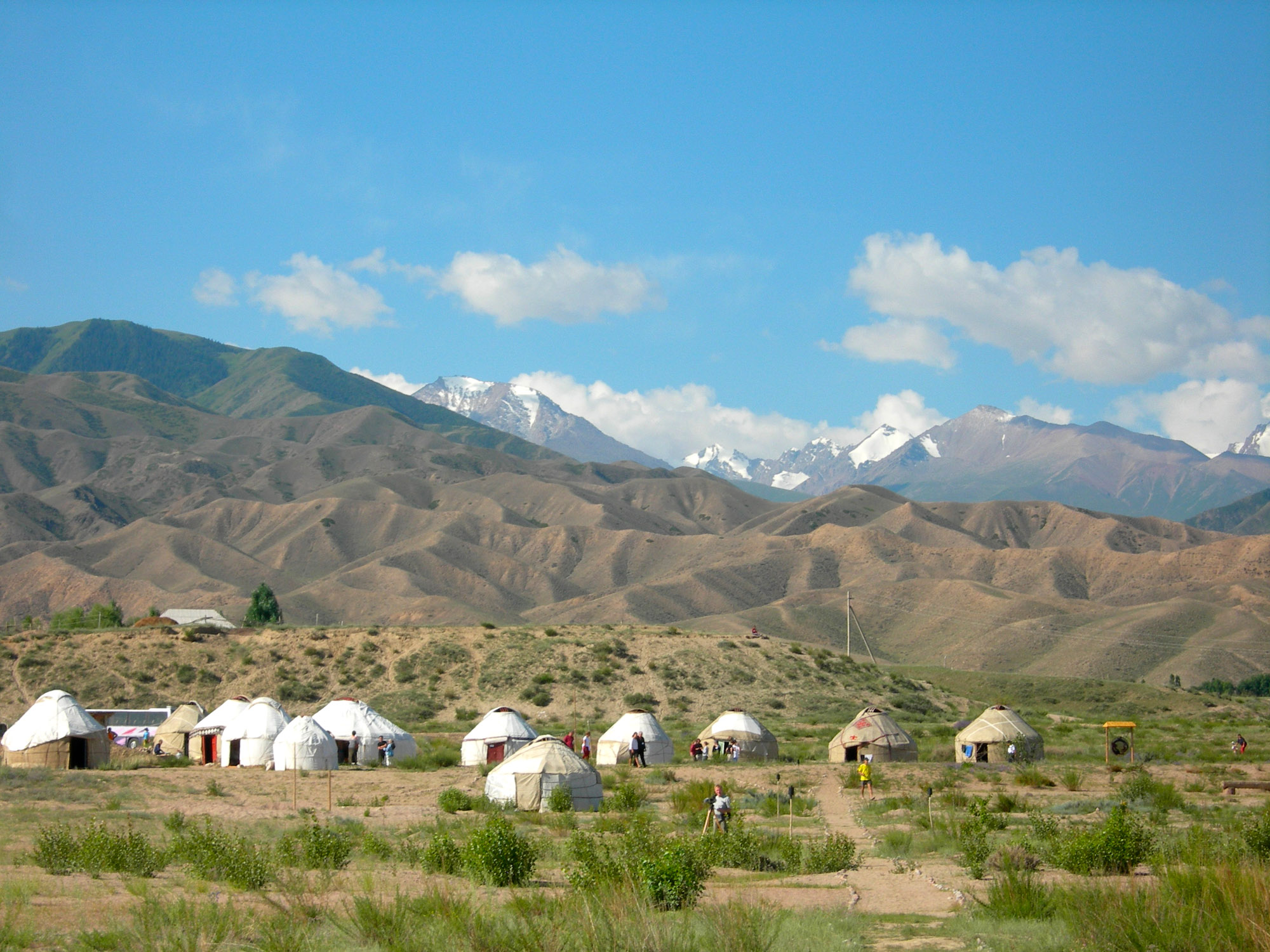 Kyrgyzstan Yurts
Indigenous Artisan Communities
Located in Central Asia, Kyrgyzstan has been well known since the times of the legendary Silk Road for the temporary yurt camps that nomads set up during summer months at the base of the Tien Shan mountains.
As if out walking I'm reading the book you sent.
I follow where the pages go
then start to wander.
– Wayne Hill, "The book about walking" (excerpt)
One spring day in fourth grade
I saw a mob of kids in the schoolyard
hitting a boy to the ground.
His name was Alan.
– Regina O'Melveny, "The Bird" (excerpt)
Chuck Lang Kicks Ass
Chuck Lang and I are sitting on the beach when we both notice the car pull in next to his Honda on the bluff overlooking the cove. Chuck is up on one knee orating about the prospect of our future together … though I wish he'd picked a nice restaurant at a reasonable hour instead of midnight on the beach.
Contributors
Many talented individuals are featured in the West Marin Review. Please click below for this volume's contributors.
FRONT COVER

Lia Cook   Binary Traces Young Girl

BACK COVER

Carol Whitman   High Tide at White House Pool

PROSE

Muriel Murch   Farming the Flats
James Misner   Three Short Stories
Rick Lyttle   Harry Truman and Me
Linda Gebroe   A Play in Four Pitches
Barbara Heenan   Grabbed by the Pussy
Lina Jane Prairie   Kelp Work
Morgan McDonald   Mobile
Elizabeth Wing   The Plankton Expedition
G. David Miller   Mad Dogs and Americans

POETRY

Reeva Harrison   In Pursuit of Thingness
J. C. Stock   Mountain Bliss
Nancy Cavers Dougherty   Inversion
Amy Elizabeth Robinson   Reading Michael Meade's Why the World Doesn't End…
Jorge Bravo   The Universe
Mary Winegarden   Long Marriage
Derveaux Baker   Second Chances
Jon Langdon   When It Counts
Claire Millikin   Christian Girl
Rebecca Foust   all this beauty
Jim Nawrocki   On Reading The Encyclopedia of Creation Myths
Luis Lenz-Fontan   Life
Barbara Swift Brauer   Fog / Trees Returning
Sarah Anna Paden   Hoshigaki
Stephen Ajay   Windless and By Our Own Hands
Kathleen Evans   Crossing the Line
Brian C. Felder   Cold Calculus
David Swain   Border Crossing
Elizabeth Wing   Pierce Point

ART + ARTIFACT

Lia Cook   Binary Traces Young Girl
Emely Garcia-DeLeon   Point Reyes Seashore
Wendy Goldberg   Inside Out and Early Spring Clearing
Charles Robinson   Granddaughter Isabel Robinson
Thomas Wood   Tomales Bay at Chicken Ranch Beach
Torrey Baron   Shadows
Julia Lucey   The Bear and the Bees
Jennifer Thompson   Can't Face It
Abbey Wenk   My Happy Place
Pam Fabry   Blue
Patricia Thomas   Negative Dark Matter
Bear Lombard   Our School Fox
Stella Bailey   White Horse
Dana Hooper   Jigsaw
Anne Hudes   Dolphin Light
Barbara Lawrence   Point Reyes Lunch
Danae Mattes   Horizon and Harbor
Betsy Kellas   Invocation and Barriers and Boundaries 3
Vi Strain   Moments of Natural Beauty
Amanda J. Sanow   Red Hill
Jo Margolis   Grid with Calligraphic Frame
Kate Kozubik   Red Tree with Bird
Glenn Carter   Knot
Marianne Reger   Bouquet
Marsha Balian   A Day at the Races
Gene Crowe   Purse, SF MOMA
Jane Zich   Running Deer
Alex Farnum   Kelp Work
Anne Faught   Pages from a Life
Jon Ching   Indestructible
Eleykaa Tully   Hope
Laurence Brauer   Fog, Trees, Mt. Wittenberg Trail
Jean Warren   Coming Together
Caitlin McCaffrey   The Claw Family
Amanda Tomlin   Bees
Harriet Kossman   Mabel, Cleo, and Peter: Morning Meeting on Pamela's Deck
Sherrie Lovler   Inspiration
Barbara Treichler Gregor   California Pipevine Swallowtail
Mark Ropers   A New Day
Carol Whitman   High Tide at White House Pool